Reducing Disaster Risk
Business Contributions to Disaster Risk Reduction
In March 2015, the UNISDR (The United Nations Office for Disaster Risk Reduction) is gathering government, business and NGO leaders, from around the world, to develop a framework that will make the world a safer place in today's disaster prone age. In preparation, the UNISDR is hosting a series of online dialogues, to which interested parties are invited.
You can find the online consultation at: www.preventionweb.net/posthfa/dialogue
Online Dialogue
The first dialogue will focus on the role of financial reform, regulation, building codes and incentives to allow business to make safer investments and avoid creating new risk in the process of driving economic growth and development. It runs from Mar 26th – April 23rd.
The second dialogue is focused on business solutions for decreasing risk exposure in both the public and private sectors. It runs from April 2nd-23rd.
The series will be completed with one more dialogue. Beginning on April 9th, the final discussion will address business continuity management in disaster risk reduction. It will also conclude on April 23rd.
---
Is your business disaster proof?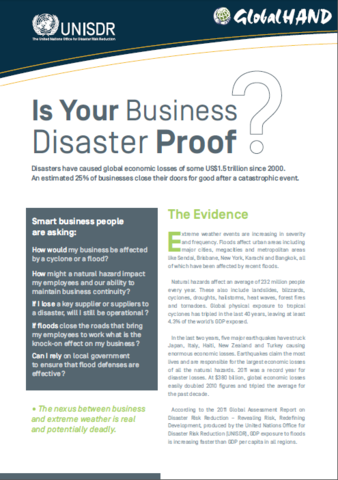 When disasters strike, 25% of businesses never re-open. And 80% of those that do not recover within one month are likely to go out of business. 75% of companies without business continuity plans fail within three years of a disaster. It is a sobering picture for any CEO or corporate board.
Global Hand has therefore partnered with The United Nations Office for Disaster Risk Reduction (UNISDR) to produce a paper on risk management. It includes a twelve point guideline for disaster risk management.
Read the paper here
Further information
---
Categorisations
Global issues
Disasters and humanitarian affairs
Business sectors
Agriculture and livestock; Community and social services; Construction; Education and...
show all (17)
You might also be interested in:
Global issues